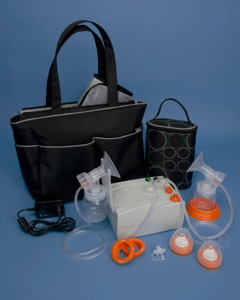 Breastfeeding does not require any special equipment. All you really need is a baby, and your breasts! But for a breastfeeding mother who needs to be away from her baby for work or school, a high quality professional-grade breast pump is essential! It can help her maintain her milk production, and provide breast milk to her baby, even though she can't always be there in person.
Historically, breast pumps were considered feeding equipment and not eligible for insurance coverage or tax deductions. Finally, after much pressure from the American Academy of Pediatrics and various legislators, the IRS has changed its classification. According to the new IRS guidelines, breast pumps are no longer considered feeding equipment. As of January 1, 2011, they are considered a medical device. This is great news for breastfeeding mothers all over the United States. It will now be easier for mothers to get insurance coverage for breast pumps.
You can expect to spend $250 to $400 for a professional grade pump. Fortunately, professional-grade breast pumps and rental breast pumps are now considered durable medical equipment and, therefore, eligible for insurance reimbursement. When you purchase or rent your breast pump from a lactation consultant, she should give you a receipt in the form of a "super bill" that will include appropriate CPT codes so you can seek insurance coverage. There are different codes for rental pumps and pumps for purchase.
Since your milk is so important to the health of your infant, your pediatrician will be happy to write a prescription for the purchase of your breast pump. This may increase the likelihood of insurance reimbursement. If you are denied insurance coverage the first time, consider writing a letter of appeal. Whatever you do, don't give up. Many families have successfully received insurance coverage after being persistent.
If you live in the state of Washington, and your insurance company has denied your claim, you may file a complaint with the insurance commissioner: http://www.insurance.wa.gov/consumers/
Keep in mind that the IRS, the insurance commissioner and the American Academy of Pediatrics are all on your side! They want you to succeed with breastfeeding and insurance coverage for your pump!
If you don't want to seek insurance coverage, the new IRS ruling also makes it possible to deduct the cost of your pump from your taxes. The cost of your breast pump may be added to your other deductible medical expenses if you itemize deductions on your federal tax return.
More information and sale of some great, economical professional-grade breast pumps can be found in our store.