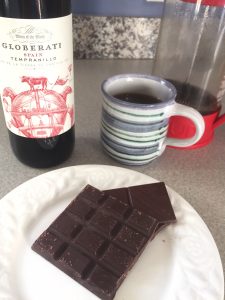 This is a test! Please read the following statements and respond "true" or "false" to each one.
1. If I breastfeed, I have to eat a bland diet.
2. If I eat broccoli, my baby will have gas.
 3.  If I have a glass of wine, I have to "pump and dump."
4.  I cannot drink coffee while breastfeeding.
5.  If I eat chocolate, my breastfed baby will get diarrhea.
6.  I have to drink lots of milk to produce milk for my baby.
7.  I can't eat spicy foods and breastfeed my baby.
If you answered false to each question, congratulations! Your score is 100 percent!
1. Babies love a varied diet. One study demonstrated that babies nurse longer after their mothers ate garlic.
2. It is a rare baby who doesn't like nutritious vegetables. On the other hand, if your baby seems to be gassy after a particular food, try avoiding it for a few days and then re-introduce it just to be sure.
3. It is dangerous to the developing baby to consume alcohol when pregnant. But drinking alcohol when breastfeeding is very different than drinking while you're pregnant. An occasional drink is just fine while breastfeeding.
4 and 5. Caffeine and chocolate in moderation are fine for mom and baby. If you notice that your baby seems irritable an hour or so after having your morning expresso, try decaf instead and see if it makes a difference. 
6. When was the last time you saw an adult cow or any other adult mammal drink milk?
7. Spicy foods? Mothers all over the world breastfeed and enjoy the foods of their culture. Pad Thai anyone?
So, indulge in the nutritious foods you love. Enjoy the occasional pleasure of a glass of wine or some yummy chocolate. You deserve it!
See also, Alcohol and Breastfeeding