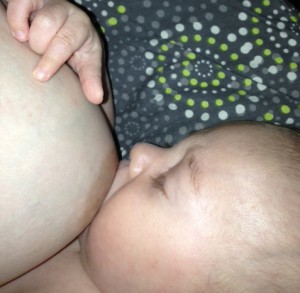 Claire contacted me when her baby was 5 weeks old. Her first week of breastfeeding resulted in cracked, bleeding nipples and a bacterial infection. Her nipples were so sore, she had to stop breastfeeding. She did, however, pump regularly to preserve her milk supply. Breastfeeding was important to Claire. She had fond memories of nursing her first daughter. She desperately wanted to nurse this new baby as well; but was afraid to try again.
Claire told me her story and asked for help to breastfeed her newborn daughter without pain. She was concerned that, after 4 weeks of bottle-feeding, her baby may not want to breastfeed. She was also concerned about her milk supply—she was not able to "keep up" with her baby—needing to supplement with some formula each day.

Needless to say, Claire was nervous about trying breastfeeding again. The memories of that first week of pain were still vivid. We worked on getting the latch just right—making sure baby's mouth was open wide enough. Claire had lots of guided practice to help her baby latch deeply onto the breast well behind the nipple. Her baby daughter was happy to cooperate.
View a video clip of one of Claire's practice sessions. But first, read on for a brief description of what you will see.
As you watch the clip, notice the position of the baby relative to Claire's breast. The baby is slightly under the breast and her upper lip is lined up with the nipple. When baby opens wide, Claire quickly brings the baby all the way to the breast. Baby's top lip barely covers the nipple. In her effort to help her baby to latch deeply enough, she goes just a bit too far, but she adjusts her baby's position accordingly when she knows the latch feels right.
Claire generously provided this video in hopes of helping other breastfeeding mothers. She and her infant daughter are now a happy breastfeeding couple. Her milk supply increased when she started breastfeeding again and her baby is thriving without supplements.
See also, "Cross Cradle Latch with Claire" for video.