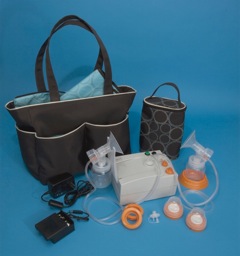 One of the great things about Hygeia is that their fantastic professional-grade breast pump comes in 2 different versions. It's nice to have choices. But choices can sometimes be confusing—especially when you are a sleep-deprived mother of a new baby.
The nice folks at Hygeia could have made it a lot easier on all of us by coming up with names that made sense. EPS? LBI? What the heck do those mean exactly? I finally have it all figured out and it's really very simple once you understand that those abbreviations really mean very little. Just trust me as I describe each pump in detail.
The important thing to know about Hygeia breast pumps is that each version is a high quality professional-grade pump. That means that it is made to be used often and is suitable for a mother who is going back to work or school full time. It's also fine for a mom who is exclusively pumping. The different styles and pumps differ not in quality—but in features and accessories. All Hygeia professional-grade breast pumps come complete with a personal accessory kit, are shareable and have a 1-year transferrable warranty.
The Hygeia LBI: The LBI is the cadillac of Hygeia breast pumps. It has a built-in lithium battery so it is truly versatile. The battery lasts for over 4 hours of pumping time! You can pump anywhere and everywhere. It comes complete with a tote bag that is also a diaper bag with changing pad and cooler pack. Even though it's Hygeia's "fancy pump," it still costs less than other comparable breast pumps.
The Hygeia EPS: The EPS is the same great pump as the LBI, but without the frills. It's the perfect pump for the mom who knows she will always have access to an outlet when she is pumping. It's also the most economical—so it's perfect for the mom on a budget who doesn't need the bag and battery option.
Pricing information can be found at my store. If you still have questions about Hygeia breast pumps, please ask!  I'm happy to help you select the perfect pump to suit your individual needs.