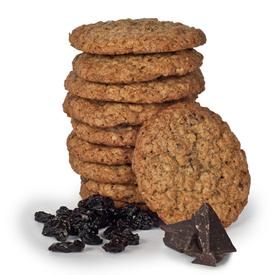 Milkmakers Cookies
10-cookie starter pack
by milkmakers
price: $19.99

Specifications:
Milkmakers cookies are seriously delicious! not convinced? find out for yourself with this starter pack of 10 milkmakers cookies. You can always come back for more…If you know you want more, see the 1-month supply option.
Low milk supply is the top reason moms stop breastfeeding before they want to. we understand how stressful this is and know that getting support makes all the difference. At milkmakers we are supporting moms one delicious cookie at a time!
Oats, brewer's yeast and flax seed support lactation
All-natural milkmakers lactation cookies contain key organic ingredients, including oats, brewer's yeast and flax seed, which have been shown to provide nutrients that benefit the health of both breastfeeding mothers and their babies as well as essential fatty acids, fiber, protein and iron.
Oats are eaten by nursing moms worldwide to boost breast milk supply, and are a nutritional powerhouse providing plenty of whole grains, fiber, iron, and an abundance of healthy vitamins, minerals, and antioxidants.
Brewer's yeast is a traditional herbal remedy used to stimulate and increase the production of breastmilk and is a rich source of the B-vitamins and amino acids essential for nursing moms and their babies.
Flax seed provides an abundance of omega-3 fatty acids, necessary for brain development, which can be passed from mother to baby through breastmilk.
These ingredients work together to make milkmakers lactation cookies a wholesome, beneficial treat for breastfeeding moms. We pride ourselves on using only premium, organic, all-natural ingredients to provide the best for you and your baby. Milkmakers can help moms with their milk production. But if you aren't nursing, you can still enjoy milkmakers. Don't worry dads, you won't be helping out with the nursing anytime soon!